Economic sentiment reaches lowest point since October 2022
Economic sentiment decreased over the past two weeks, reaching its lowest point since October 11, 2022. The Penta-CivicScience Economic Sentiment Index (ESI) fell 0.9 points to 32.1.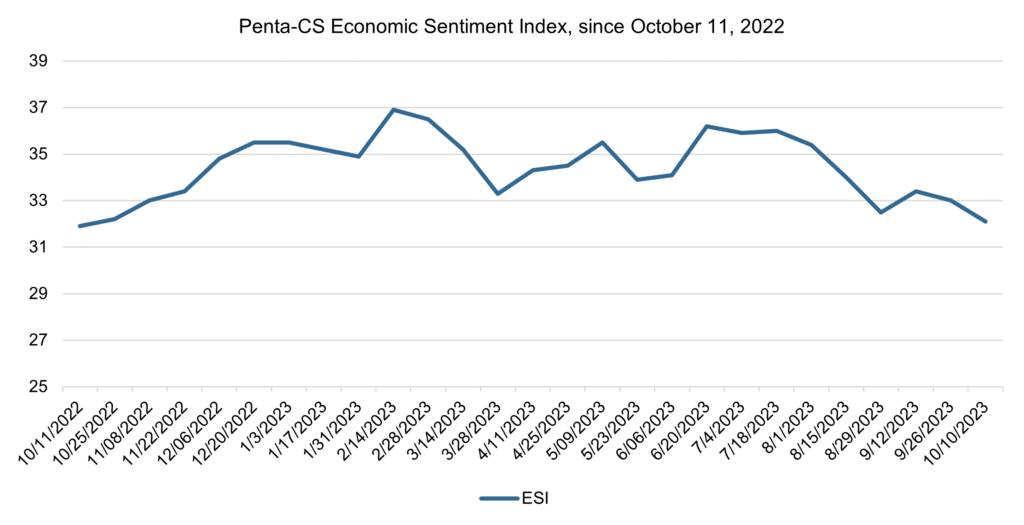 Four of the ESI's five indicators decreased over the past two weeks. Confidence in finding a new job and in making a major purchase decreased the most, falling 1.9 points each, to 36.9 and 19.3 respectively.
—Confidence in the overall U.S. economy fell 1.5 points to 30.8.

—Confidence in buying a new home fell 0.1 points to 20.9.

—Confidence in personal finances rose 0.7 points to 52.3.
Kevin McCarthy's removal as Speaker of the House could cause economic trouble. Before the vote to remove McCarthy was finalized on October 3rd the stock market was already down as U.S. Treasury yields rose to their highest levels in over a decade—worrying investors that higher borrowing rates could further stall the housing market.
The need for the House to elect a speaker adds another obstacle to overcome before tackling the spending battle. Some on Wall Street fear that a government shutdown may shake consumer confidence, while Moody's—the last of the three major credit rating agencies to assign the U.S. a rating of AAA—said a shutdown could threaten the U.S.' credit rating. 
In addition to the rising Treasury yields and a potential government shutdown, the autoworkers strike continues to impact the economy, costing an estimated $4 billion in economic losses over its first two weeks.
After signs that the labor market was cooling, the U.S. economy beat expectations and added 336,000 jobs in September and the unemployment rate remained steady at 3.8%. All three major stock indexes rose after the release of the jobs report on October 6.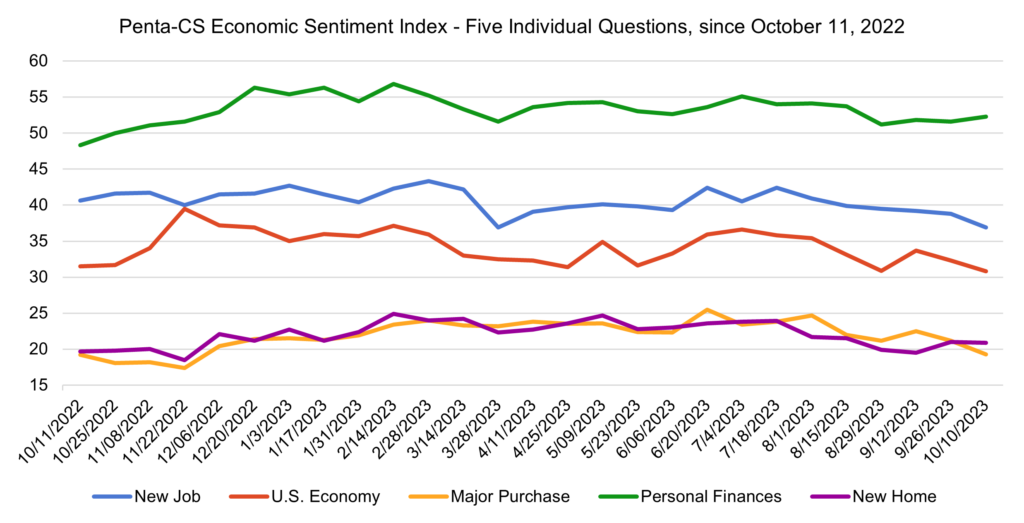 The ESI's three-day moving average began this two-week stretch at 32.0 on September 27. It rose to 33.2 on September 28 before falling to a low of 30.1 on October 3—the day Kevin McCarthy was removed as speaker of the House. The three-day average then trended upward to a peak of 33.8 on October 8 before falling to 33.5 on October 10 to close out the session.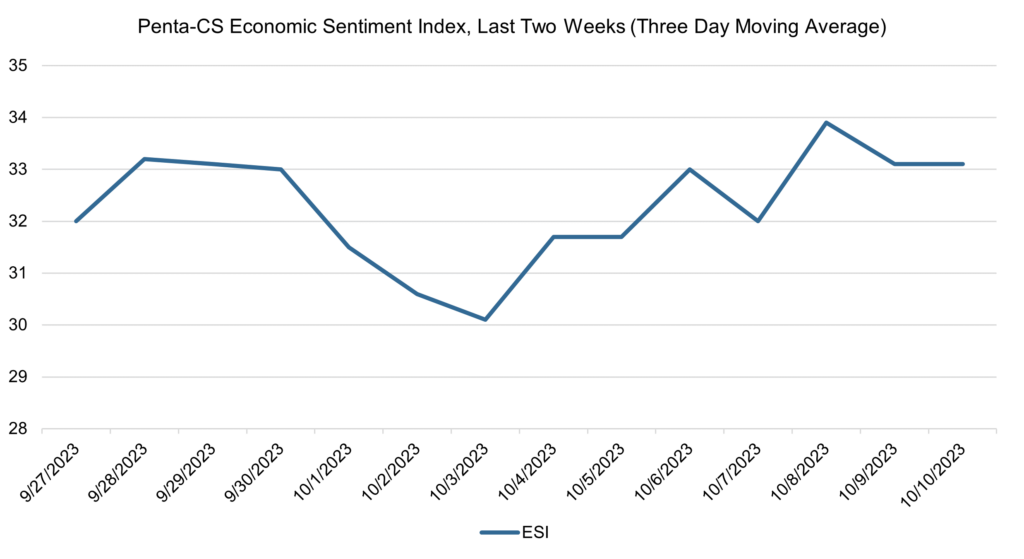 The next release of the ESI will be Wednesday, October 25, 2023.