Economic sentiment jumps sharply, reaching highest level since March 2022
Economic sentiment increased sharply over the past two weeks. The Penta-CivicScience Economic Sentiment Index (ESI) rose 2.0 points to 36.9, the largest single-reading increase since July 2022 and highest reading since March 2022.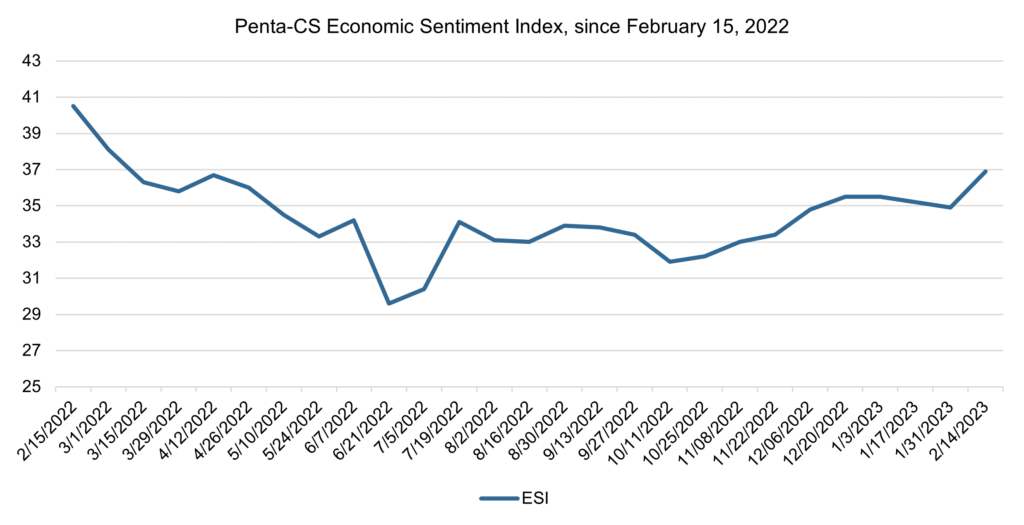 All five of the ESI's indicators increased over the past two weeks, the first time all indicators have moved in positive unison since November 2022. Confidence in buying a new home improved the most, increasing 2.5 points to 24.9.
—Confidence in personal finances rose 2.4 points to 56.8.

—Confidence in finding a new job rose 1.9 points to 42.3

—Confidence in making a major purchase rose 1.5 points to 23.4.

—Confidence in the overall U.S. economy rose 1.4 points to 37.1.
Confidence in buying a new home jumped as the average rate on the 30-year fixed rate mortgage fell to 5.99% on February 2, the first time it has dropped below 6.0% since early September.
The release of the Bureau of Labor Statistics's January job report showed employment rose by 517,000 in January 2023—blowing out economists' estimates that just 185,000 jobs would be added. The strong labor market and improving outlook on inflation have led some—such as Goldman Sachs CEO David Solomon—to believe that avoiding a recession and achieving a soft landing remains possible.
The jobs report came on the heels of the Federal Reserve unanimously approving a quarter-point interest rate hike on February 1, the smallest increase since March 2022 and a potential sign that the central bank is seeing progress in its efforts to combat inflation.
However, the fight to curtail inflation is far from over. New data from the Labor Department revealed inflation rose by 0.5% in January 2023, a significant jump from December's 0.1% increase. This hike, coupled with the highest reading of the Consumer Price Index since October 2022, reflects that inflation's decline will not always be linear.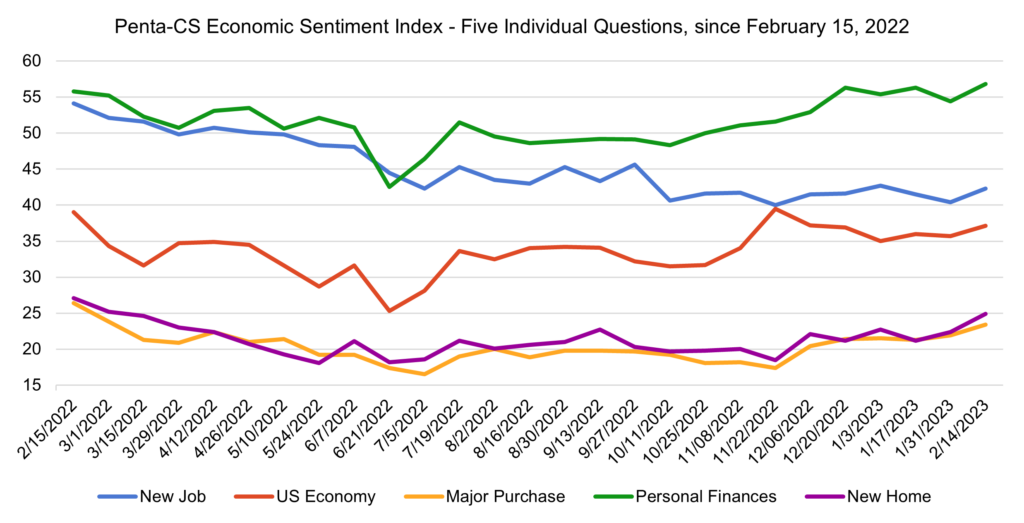 The ESI's three-day moving average began this two-week stretch at a low of 34.9 on February 1 and 2. It then trended upward, rising to 36.4 on February 4 before falling to 35.9 on February 5. The three-day average then trended upward to a peak of 38.5 on February 12, before falling to 37.4 on February 14 to close out the session.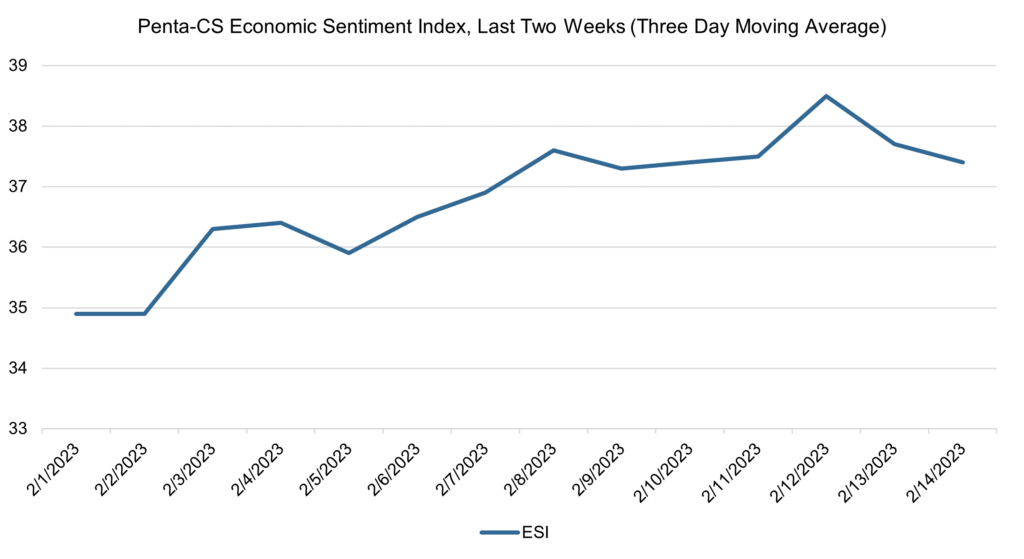 The next release of the ESI will be Wednesday, March 1, 2023.