Economic sentiment falls, driven by falling confidence in making a major purchase
Economic sentiment decreased over the past two weeks. The Penta-CivicScience Economic Sentiment Index (ESI) fell 0.3 points to 35.9.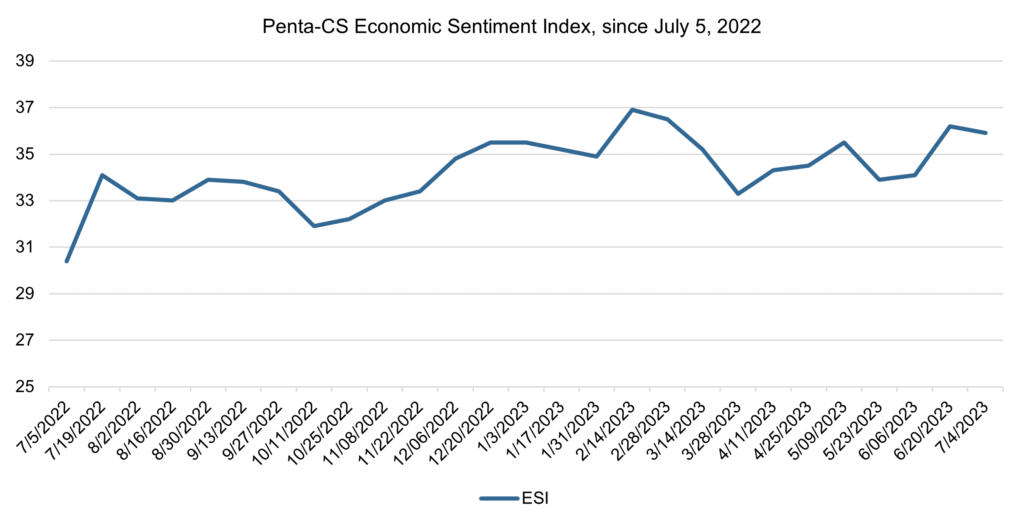 The overall drop in confidence was the result of drops in just two of the ESI's five constituent indicators. After a significant increase last reading, confidence in making a major purchase decreased the most, falling 2.1 points to 23.4—its largest single-reading decrease in more than a year.
—Confidence in finding a new job fell 1.9 points to 40.5.

—Confidence in buying a new home rose 0.2 points to 23.8.

—Confidence in the overall U.S. economy rose 0.7 points to 36.6.

—Confidence in personal finances rose 1.5 points to 55.1.
Americans are spending less and saving more. Rising interest rates and shrinking savings are impacting consumer spending, which only grew 0.1% from April to May according to the Commerce Department. Additionally, Americans personal savings rate rose to 4.6% in May, up from 4.3% in April and more households are falling behind on debt payments.
The U.S. labor market has been surprisingly resilient this year, including unexpected rises in hiring the past two months. However, there are signs the job market is cooling off. Job postings on Indeed were down 17% as of June 23 compared to the same day a year ago.
Additionally, economists polled by Bloomberg forecast that the Department of Labor jobs report—set to be released July 8—will show the U.S. added 200,000 jobs in June, down from the 339,000 added in May, although estimates have underestimated the headline figure every month for the past 14 months.
The unemployment rate is expected to be 3.6%, slightly down from the current rate of 3.7%. Some industries, including tech, are laying off workers at elevated rates, although wage growth is still high and layoffs remain relatively low.
The typical U.S. home is selling for roughly 1% less than the all-time high set last June—the smallest year-over-year drop in nearly four months. The disconnect between supply and demand, with new listings down 27% and pending sales down 15% from a year ago, is helping keep prices high.
According to property data provider ATTOM, homes were less affordable in 98% of counties with data to analyze compared to historical averages and major homeownership expenses last quarter now take up roughly 33% of a family's monthly income.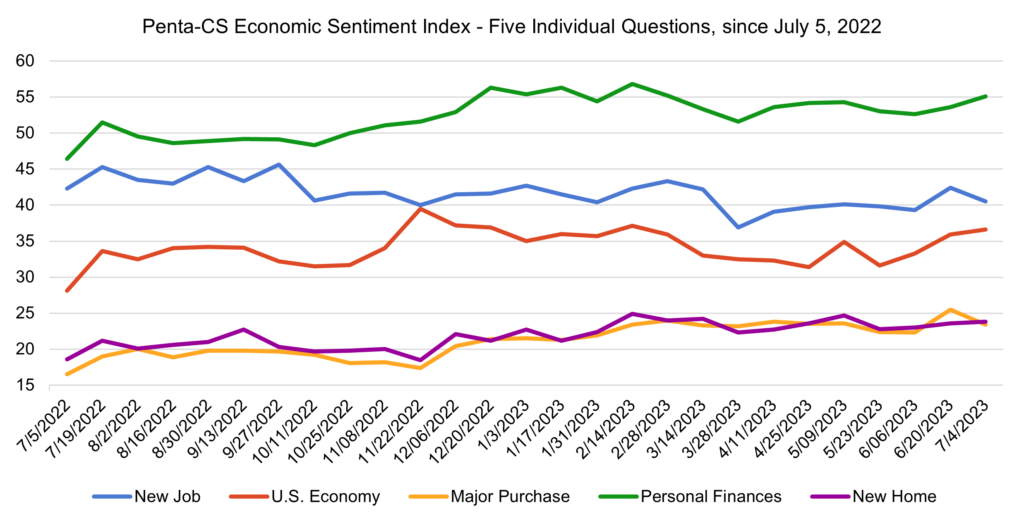 The ESI's three-day moving average began this two-week stretch at a peak of 38.9 on June 21. It then trended downward to a 35.7 on June 25 before rising to 36.1 on June 26. The three-day average then trended downward to a low of 35.4 on July 1 before rising to 35.6 on July 4 to close out the session.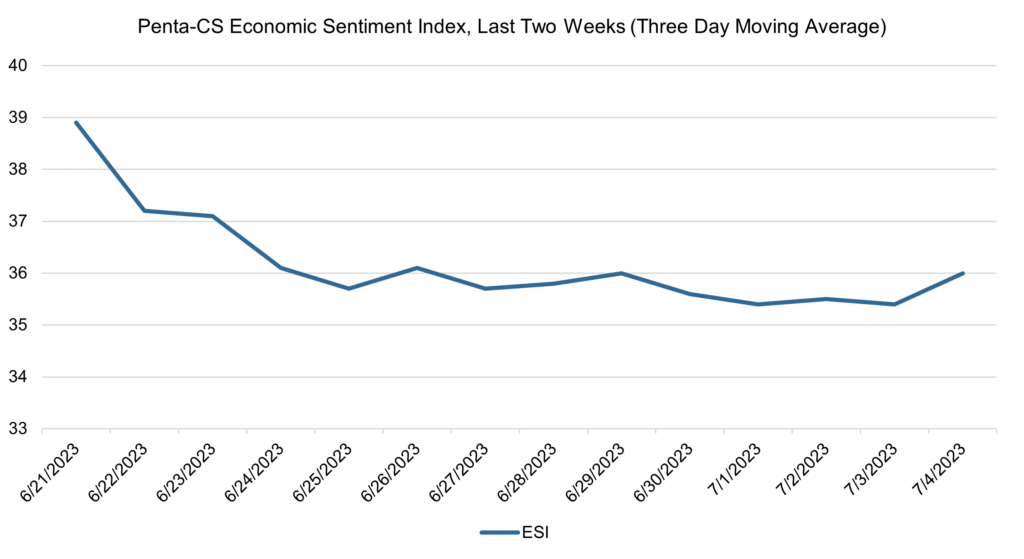 The next release of the ESI will be Wednesday, July 19, 2023.