Economic sentiment sees biggest increase since July 2022
Economic sentiment increased over the past two weeks in the largest single-reading increase since July 2022. The Penta-CivicScience Economic Sentiment Index (ESI) rose 2.1 points to 36.2.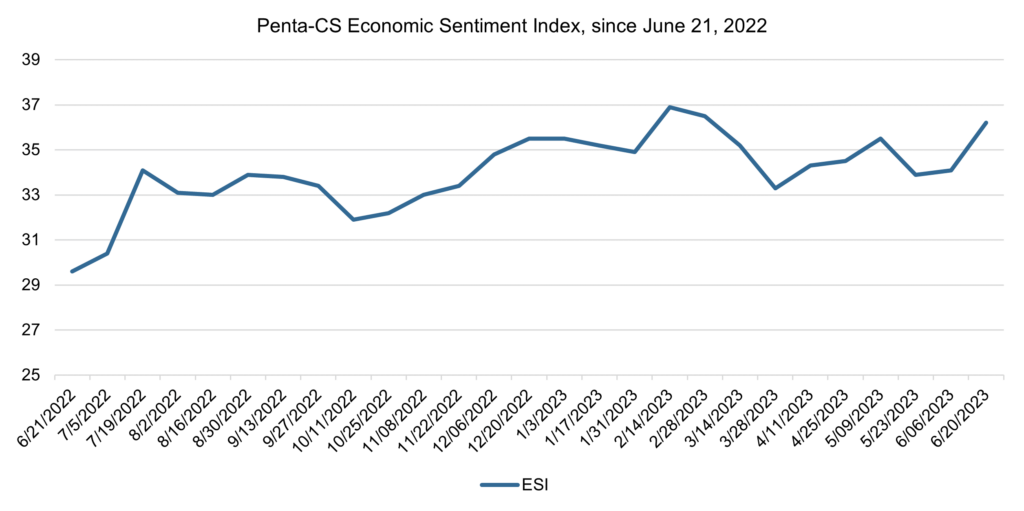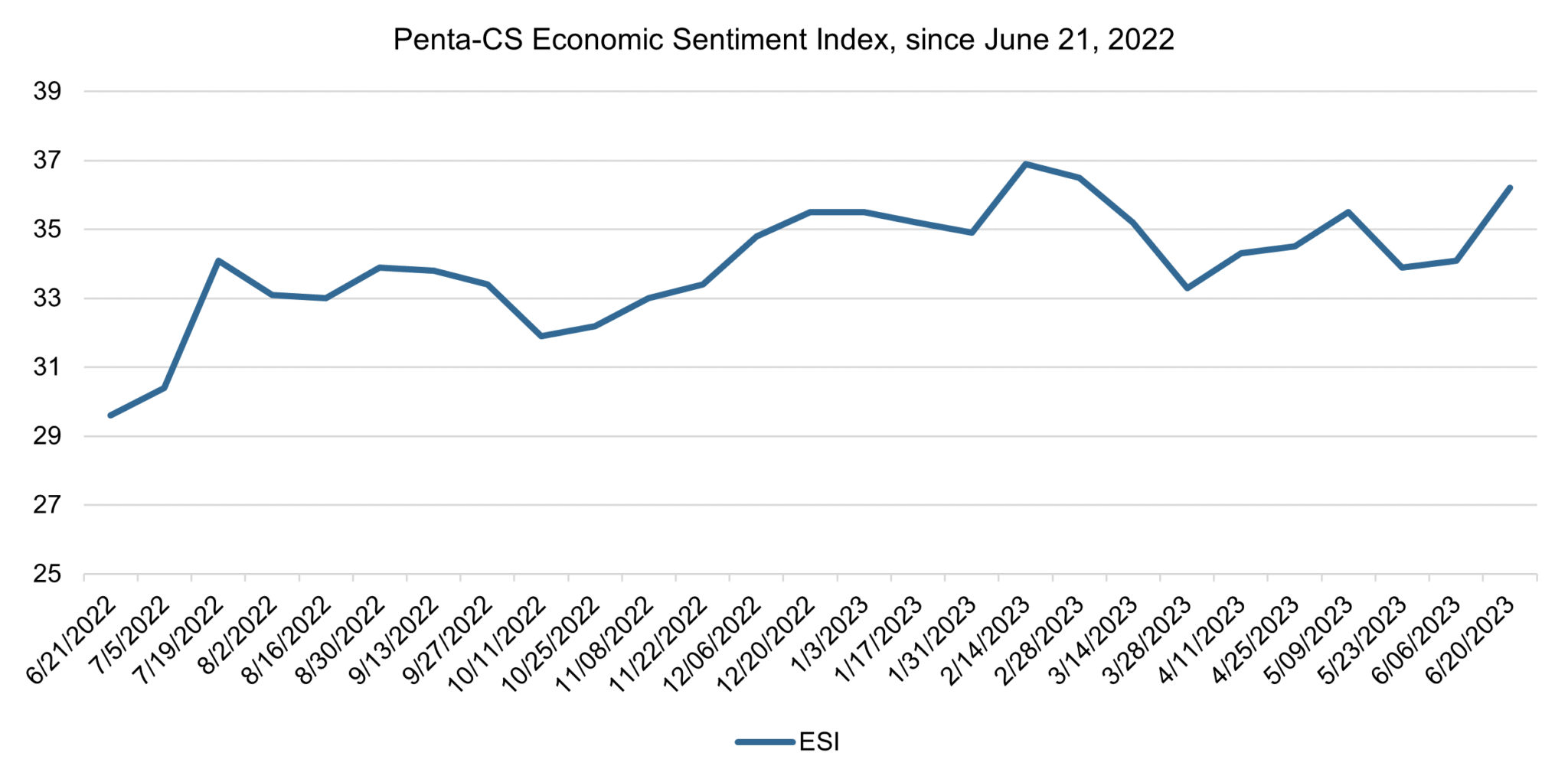 All of the ESI's five indicators increased over the past two weeks. Confidence in making a major purchase improved the most, rising 3.2 points 25.5—its largest single-reading increase in more than a year.
—Confidence in finding a new job rose 3.1 points to 42.4. 
—Confidence in the overall U.S. economy rose 2.7 points to 36.0. 
—Confidence in personal finances rose 1.1 points to 53.7.
—Confidence in buying a new home rose 0.6 points to 23.6.
U.S. inflation slowed for the 11th consecutive month in May. The Consumer Price Index, a key gauge of inflation, increased 4% annually in May—the slowest annual pace since March 2021. The slowdown slightly beat economists' expectations of a 4.1% gain and is a significant decrease from April's 4.9%. While decreases in the costs of energy products and services aided the slowdown, rents remained sticky and the price of used cars and trucks continued to rise.
Slowing inflation was coupled with a 4.3% annual increase in hourly wages in May, leading to the first real wage growth for Americans in two years. This increase, combined with the continued strength of the labor market, could be a sign of wage growth leveling out with inflation.
Meanwhile, on June 14 the Federal Reserve left interest rates unchanged, skipping an increase after making 10 in a row. The Federal Reserve noted that the job market has stayed robust and that the unemployment rate has remained, although its main focus continues to be slowing inflation. Despite the break, Federal Officials are increasingly worried about the stickiness of inflation and many predict two more rate increases for the year.
Housing inventory remains low in the U.S. The shortage continued to grow as the total number of U.S. homes for sale dropped 6% from a year earlier during the four weeks ending June 11, the biggest decline in 13 months. There are 39% fewer homes for sale than there were five years ago in June 2018.
However, homebuilders are attempting to meet the strong demand from buyers. In May U.S. homebuilding jumped 21.7%—far beyond expectations. The dearth of inventory has been a contributing factor to elevated housing prices—the median home price now sits at $419,103, 40% higher than it was in the pre-pandemic boom in January 2020.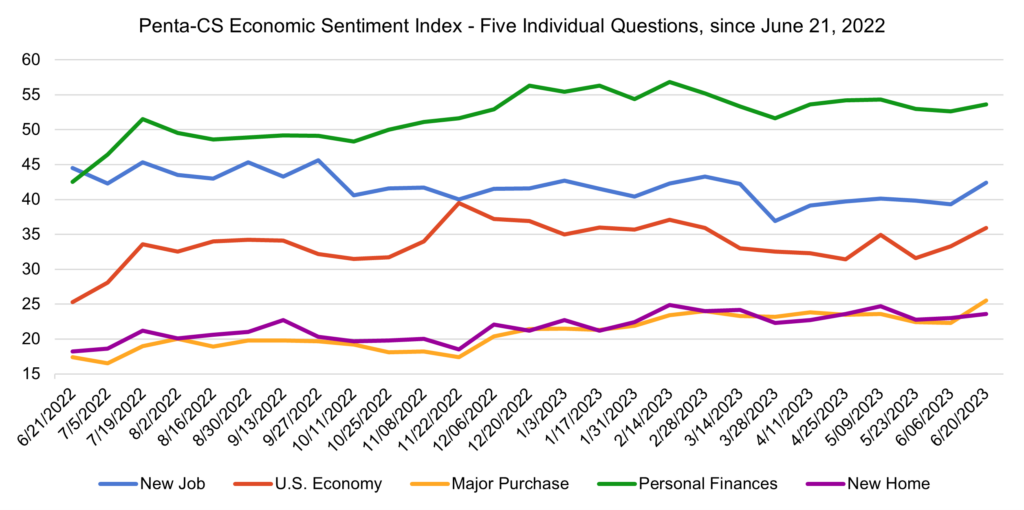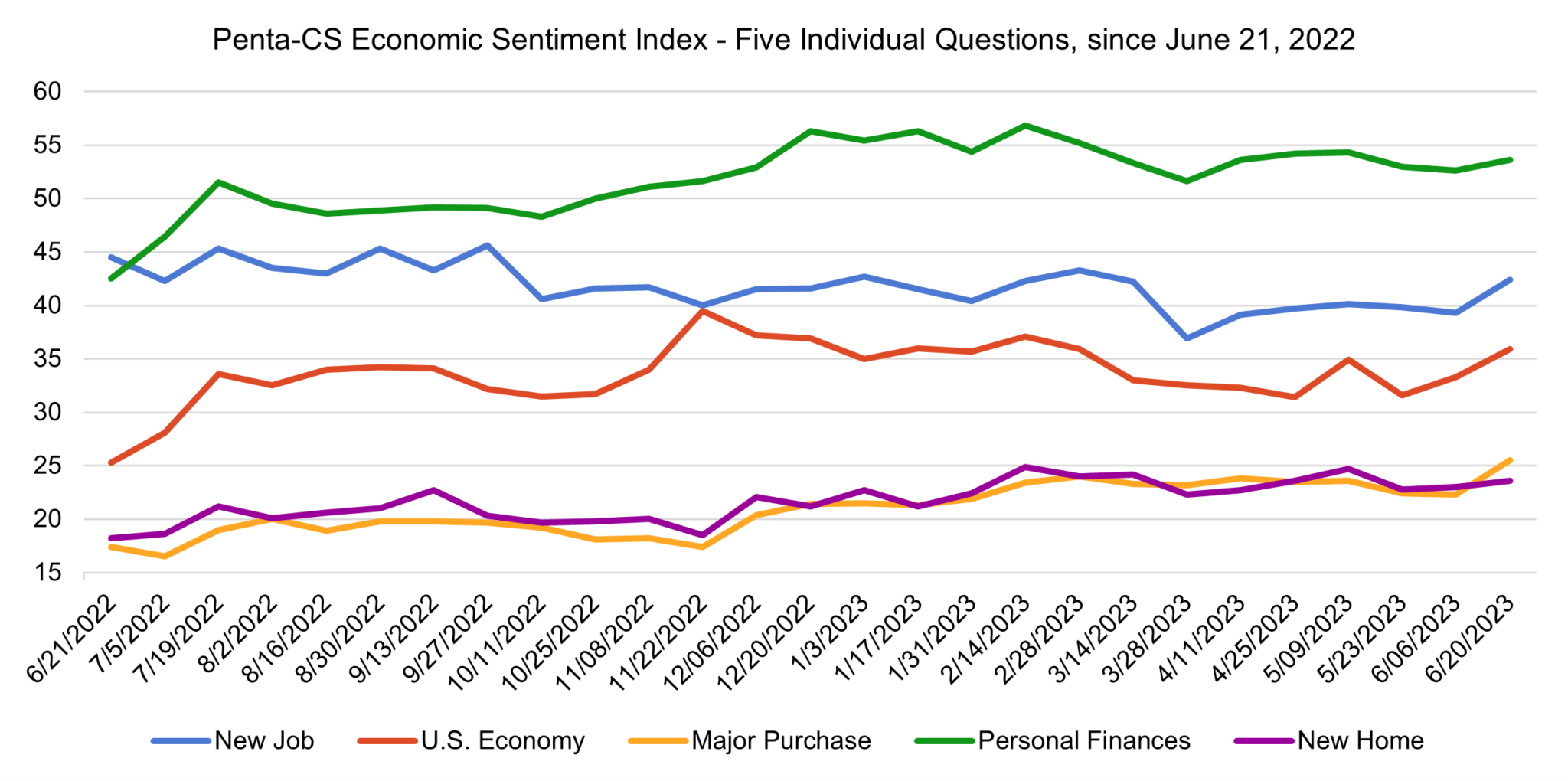 The ESI's three-day moving average began this two-week stretch at 36.5 on June 7. It trended downward to 33.7 on June 11 and then rose to 36.4 on June 14. The three-day average then fell to 35.6 on June 17 and rose to a peak of 40.3 on June 20 to close out the session.