Economic sentiment rises as confidence in the overall U.S. economy jumps
Economic sentiment increased over the past two weeks, the third-straight rise. The Penta-CivicScience Economic Sentiment Index (ESI) rose 0.4 points to 33.4, driven by the largest increase in confidence in the U.S. economy in over a year.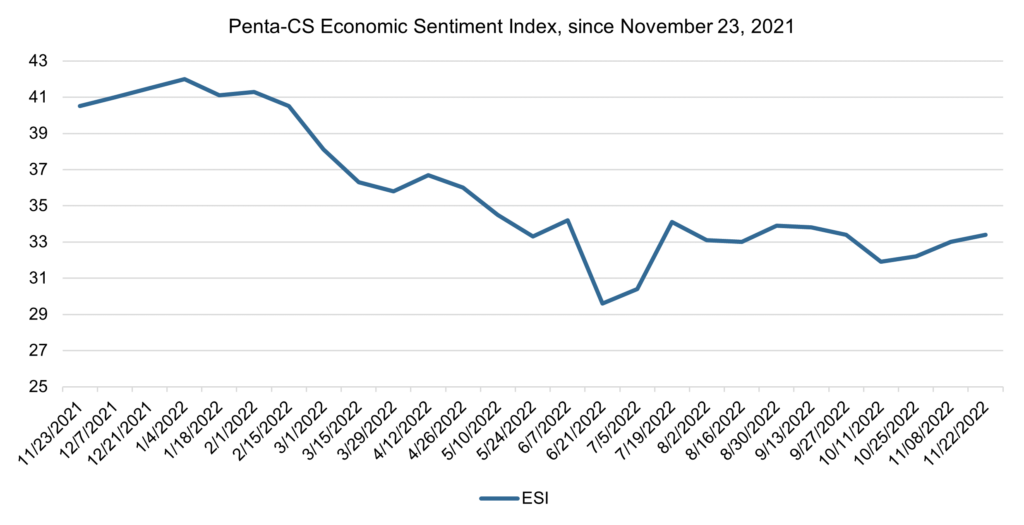 Two of the ESI's five indicators increased over the past two weeks. Confidence in the overall U.S. economy improved the most, increasing 5.5 points to 39.5, its highest level since the first week of January. 
—Confidence in personal finances rose 0.5 points to 51.6.

—Confidence in finding a new job fell 1.7 points to 40.0.

—Confidence in buying a new home fell 1.5 points to 18.5

—Confidence in making a major purchase fell 0.8 points to 17.4.
The U.S. economy is showing some positive signs, including the Federal Reserve Bank of Atlanta's prediction of a 4.2% growth for real GDP in the fourth quarter of 2022, leading some to believe the economy may indeed achieve the "soft landing" the Fed has been hoping for. The strong prediction has been accompanied by signs of slowing inflation, such as wholesale prices—which rose by 8% in October from a year before, the smallest increase since July of last year.
U.S. retail sales rose sharply in October, increasing 1.3% compared with September, while retailers themselves are experiencing a decline in revenue ahead of the holiday season. Strong consumer spending persists amid high inflation, climbing interest rates, and an overall challenging economic climate.
Meanwhile, major companies, primarily tech companies, including Amazon, Twitter, Carvana, Robinhood, and others reduced their workforce by hundreds or thousands in November. These sweeping layoffs have helped fuel concerns about the labor market.
The housing market also saw signs of trouble, with home sales in the U.S. declining for the ninth month in a row in October. Along with the falling home sales has been a decline in housing starts, a measure of new construction, and a rise in prices.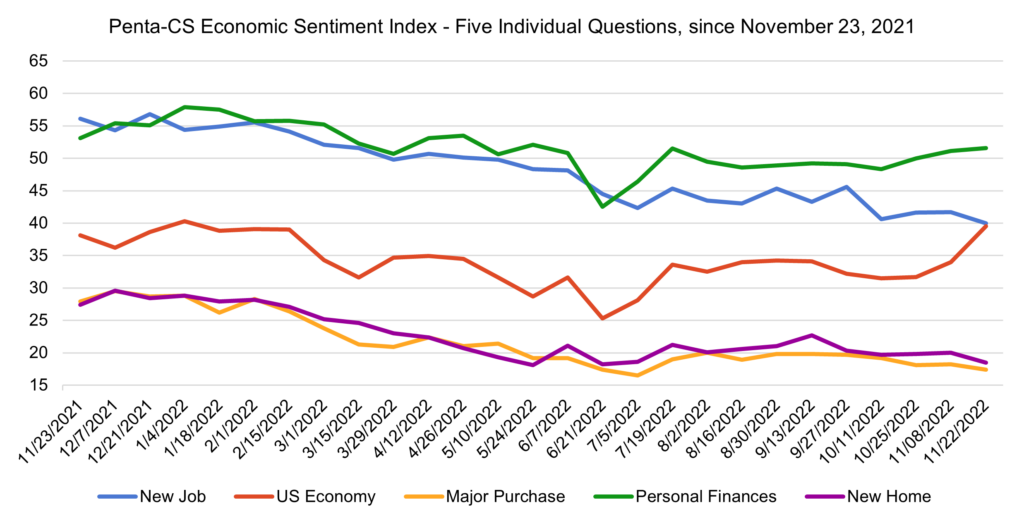 The ESI's three-day moving average began this two-week stretch at 32.6 on November 9. It fell to a low of 30.8 on November 12 before rising to 34.6 on November 15. The three-day average then trended downward to 32.7 on November 18, rose to a peak of 36.0 on November 21, before falling to 34.8 on November 22 to close out the session.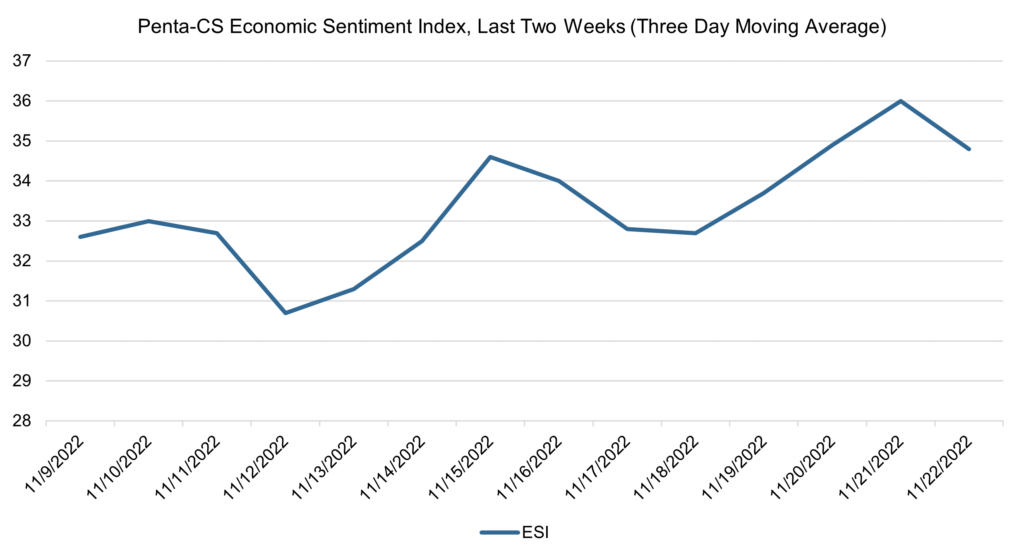 The next release of the ESI will be Wednesday, December 7, 2022.