Economic Sentiment Rises, Bolstered By Better-Than-Expected GDP Report
Economic sentiment increased over the past two weeks. The Penta-CivicScience Economic Sentiment Index (ESI) rose 0.8 points to 33.0, largely driven by an increase in confidence in the U.S. economy.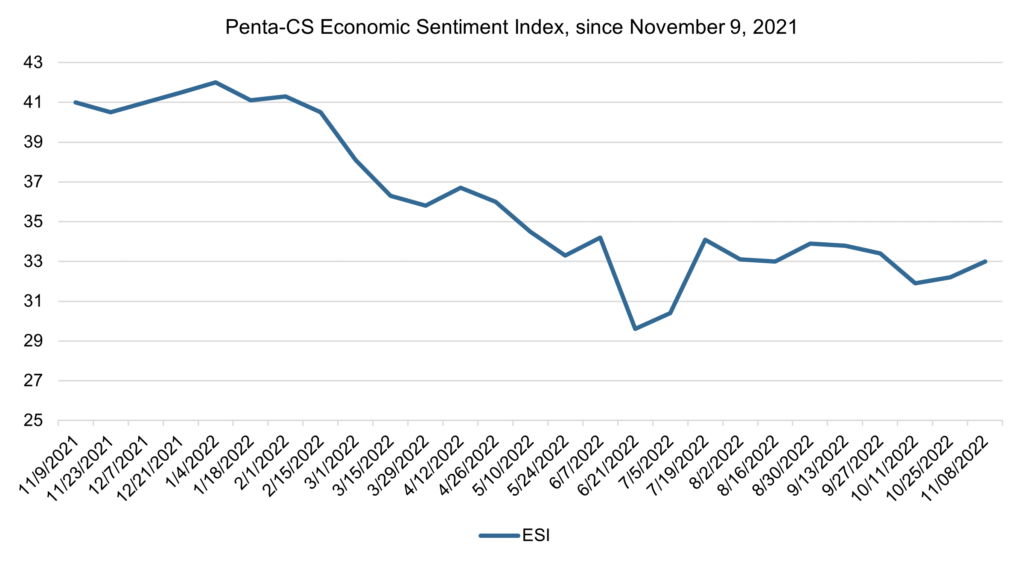 All five of the ESI's indicators increased over the past two weeks. Confidence in the overall U.S. economy improved the most, increasing 2.3 points to 34.0.
—Confidence in finding a new job rose 0.1 points to 41.7.

—Confidence in personal finances rose 1.1 points to 51.1.

—Confidence in buying a new home rose 0.2 points to 20.0.

—Confidence in making a major purchase rose 0.1 points to 18.2.
After two consecutive quarters of economic contraction, U.S. GDP beat predictions and increased by a 2.6% annualized rate in the third quarter, according to the Bureau of Economic Analysis advance estimate. The report also showed that consumer spending rose 0.4%, slightly down from 0.5% last quarter, although some economists question how long this can last as Americans only saved 3.3% of their after-tax income in the third quarter, the smallest share since 2007.
While the GDP report showed positive signs for the economy—the Dow climbed 0.6% the day of the release—it also highlighted the challenging position of the economy as the federal government seeks a "soft landing" for the economy.
This volatility comes alongside the November 8 midterm election cycle. With issues like high inflation and rising prices at the top of voters' minds, the results will certainly impact future economic policy as lawmakers continue to navigate a difficult economic environment.
Meanwhile, the job market remained strong but showed signs of weakening. According to the U.S. Department of Labor jobs report, employers added 261,000 jobs in October, compared to a revised 315,000 jobs the month before. In addition to the slowing growth, which was not entirely unexpected as employers have already replaced all of the 22 million jobs that were lost during the pandemic, the unemployment rate rose to 3.7% from 3.5%.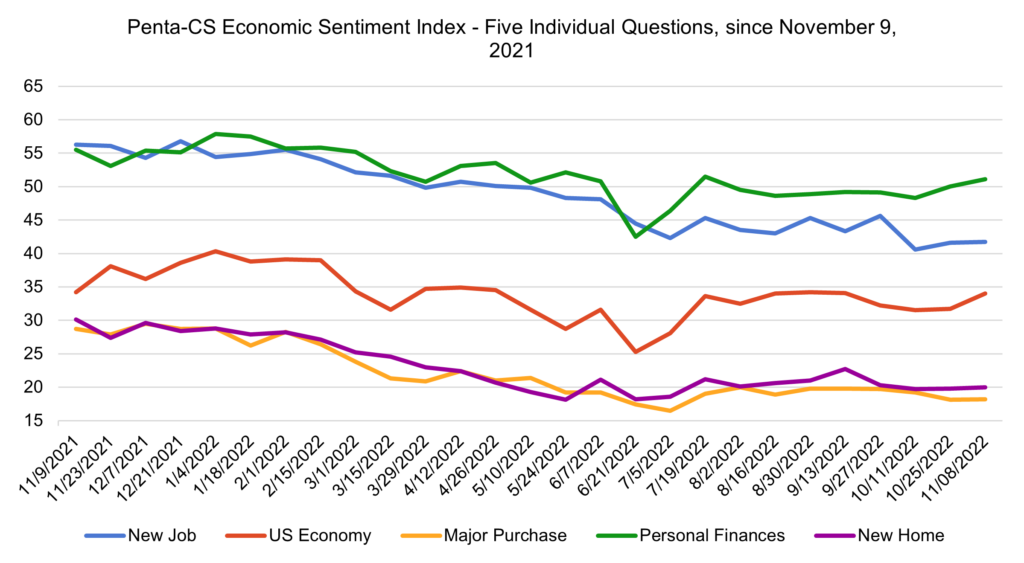 The ESI's three-day moving average began this two-week stretch at 31.5 on Wednesday, October 26 before trending upward to 33.3 on Saturday, October 29. It then fell to 32.5 on Sunday, October 30 before rising to a two-week peak of 34.3 on Wednesday, November 2. The three-day average then trended downward to a low of 31.5 on Tuesday, November 8 to close out the session.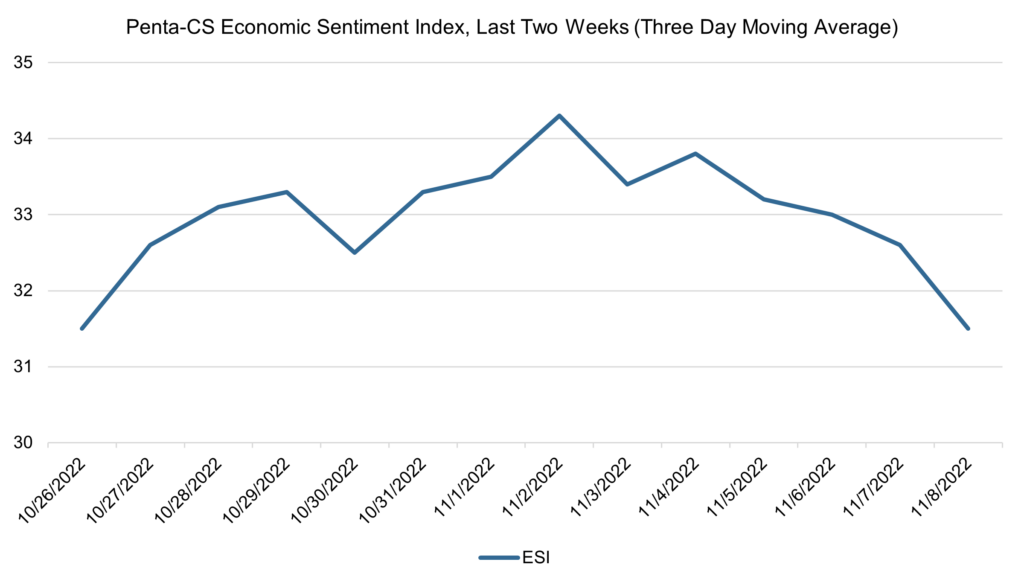 The next release of the ESI will be Wednesday, November 23, 2022.